HARRY'S TALES
As recounted by Richard English (2004)
Most of those of you who don't frequent the Merry Harriers at Hambledon (the venue for the Surrey/Hants area of our Club) will not have met Harry Long. Harry is an inveterate story teller and his tales of his Rudge exploits have enthralled many of those who have propped up the bar of the Harriers on the last Monday of every month.
In spite of his abilities as a raconteur, Harry claims that he is not a writer so in this occasional series I am attempting to capture some of Harry's stories so that more of we Rudge Enthusiasts can enjoy them. Any deficiencies in the telling are my own and I accept full responsibility for them!
For those who haven't met him, Harry is a gentleman of 'indeterminate years' who tends to arrive at the pub at very high speed on a sort of motorised armchair with the name Honda on the front, although on high days and holidays he may be seen on his excessively fast two-valve 250. By his own admission, Harry has been racing for 25 years, which, as he himself says, ". . .is pretty good since I didn't start until I was 47.. ." Those of us (like this writer) who have only recently qualified for our bus passes and who still find excuses for going to Rudge meetings in our cars should be suitably ashamed of ourselves...
Harry's first bike was a 1937 175 Coventry Eagle which he acquired (as did so many of us, I suspect) against his father's wishes. A horrible bike, Harry recalls and in 1947, when he was living in Streatham, South London, he swapped it for a collection of bits owned by one Harry Brennan.
Harry Brennan was a great enthusiast and had, as our own Harry recalls, a particular fascination with steering. As Harry recalls, ".. even if we were riding a pushbike, Harry would comment on how well (or how badly) it was steering. About the handling of most pre-war bikes Harry Brennan was scathing: Rudges and Velocettes were grand and OK Supremes were pretty good as well — as were New Imperials. But most of them: BSAs, Triumphs, Royal Enfields — were shocking.
"And how about Nortons?", I ventured. Apparently Harry Brennan didn't think much of them either — their reputation was better than their reality.
This collection had been split between various locations in and around the Elephant and Castle (that's also in South London, but two or three miles north of Streatham) and Harry eventually tracked them all down and, for the princely sum of half a crown (12.5 pence) a week, rented a lock-up shop in Kennington (that's also in London and quite close to the famous Oval cricket ground), After several half-crowns had been spent, the bits turned into a 1930 Rudge Special which Harry rode for about seven years.
Harry ...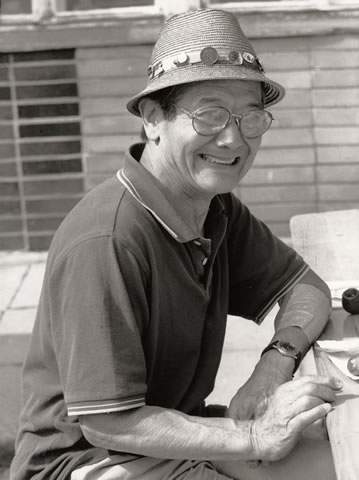 Harry's first post war bike was a 1950 Douglas trials model — an awful bike as Harry recalls. As somewhat of an enthusiast for Douglases I wonder whether that's quite fair — although even I have to confess that it seems to me that the idea of a trials machine with a cylinder sticking out from each side might not be quite the thing.
"Maybe the Douglas was a better touring bike than a trials bike," I vouchsafed. But Harry was not to be won over. "No, he said, it was a terrible bike so I sold it and bought a 1950 350 trials AJS".
And how was the AJS? "Without doubt", said Harry, "it was the best second hand bike I ever bought. I trialled it and scrambled it and wrecked it. But I rebuilt it and it just kept going. A wonderful bike".
"What came next?" I wondered.
"In 1954 I part-exchanged the Ajay for a 1952 BSA Gold Star which I rode for years and is still in the family. I thought it was a wonderful handling bike all the time I used it on the road, but it was when I decided to start racing it that I found out how wrong I was. On the limit it was terrible — pitching and weaving — not at all pleasant."
In 1981 Harry built a swing arm Gold Star which he's raced every year since then in various events including the Manx Grand Prix, the Classic TT and the Southern 100. And he is still racing it and hopes to return to the Island this year.
"What about your fire-breathing 250?" I queried.
"I got that in 1993 as a bit of a wreck — I think I gave £50 for it and I gradually rebuilt it I started racing it in 1999 at Silverstone".
Harry in a determined mood at Horice 2001 ...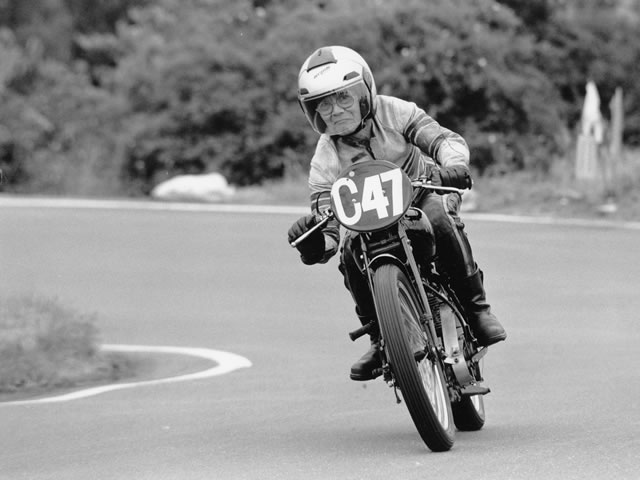 "And how does it compare with the Gold Star?", I asked. A large grin made its way across Harry's face. "It's a lot more fun", he said with evident enthusiasm, And as a fellow 250 rider I can understand what he means. Although the 250 obviously lacks the power of the 500s it has a very thrashable motor and the whole machine is very well balanced.
I mentioned the unburstability of the motor to Harry and he grinned.
"Well, I haven't told you about Shotton yet, have I?" "Maybe you should", I suggested.
"Shotton", Harry told me, "is just north 'of Frankfurt and I was due to race there in August last year and I was late getting there. I didn't get there until the Friday night and I should have got there about four o'clock in the afternoon."
"Obviously I'd wanted to sign on and get the bike scrutineered and all the other bits ready for an early start. You see, in Germany they always have the vintage races early. And I got lost! So instead of arriving in the afternoon and getting everything done, I didn't arrive until it was too late."
"In the morning I had to get all the formalities sorted out and so I was in a bit of a rush and started to practice without checking as carefully as I should have done. I did the first lap and everyone was mincing around so at the end of the first lap I decided to clear off and I was flat out down the main straight when the motor seized solid — I'd forgotten to turn the oil tap on! So I leant the bike against a straw bale and waited for the practice session to finish. The practice session was about ten or 12 laps and, of course, it had only just started so I just sat there thinking about what I'd have to do to sort the motor out."
"It was a blazing hot day and I could just see myself stripping everything down in that hot sun — easing the piston, freeing the rings — all that sort of thing. Anyway, after a while I just pushed down on the kickstart and it moved! I waited until just before the end of practice and gave it a gentle kick and it kicked back! It was free, So I kicked it again and it started and ran."
"I waited until practice was over and rode it back to the paddock. I checked it over and it seemed to run OK and there was plenty of compression so I left it and haven't looked at it since! Of course, I'll have to strip it down before next season but I was obviously lucky — mind you, I did get to the clutch straight away".
At this point the pub was closing and the batteries in my tape recorder were running out so I suggested to Harry that we could perhaps have another chat later when he could share some more of his experiences with us.
And that's how we left it. So, watch this space and, if you can't wait for the continuation of the saga, just come along to the Merry Harriers at Hambledon on the last Monday of every month and you'll be able to hear more from Harry's own lips.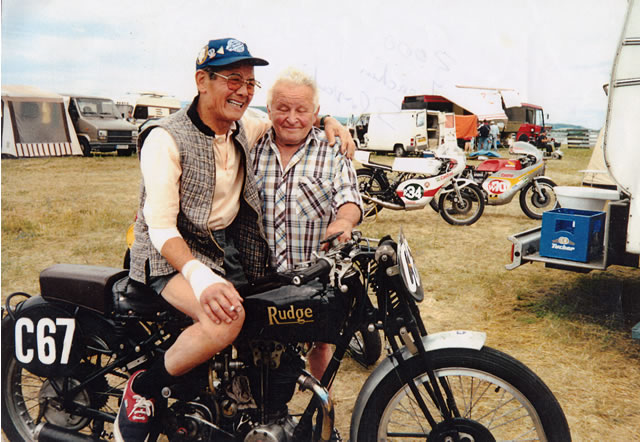 On World-Wide Rudge Day ( 17th June 2000), Harry was in Trenchin, in Slovakia, and was thus not around for the local meeting at the Merry Harriers, but he did not want to be left out of the celebrations and the picture here is of Harry sitting on his 250 with fellow competitor Vaclar Parus.
© Richard English